Up Band is a Tehran based Rock music band,formed beside a friendship of two young university students-Hooman Hojabri ,Guitar and Arash Javahery ,Lyrics and Harmonica .They begin their work shortly after their first visit and powered a friendship which lasts till now .They formed The band and played in many Friendly parties and public Domains . Their songs can be categorized under the Rock gener or maybe rock –blues and they sing in Persian language .
No more explainations ,Here is an interview with Arash and Hooman from the band.and you can also a Download or listen to UP demo song-Pary– from their first album Here.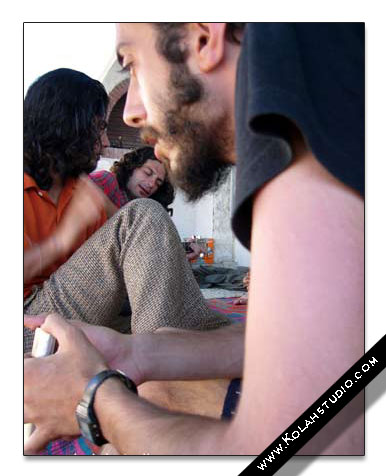 Kolahstudio :Can I ask you ,both ,explain about the first time you've considered music as a favorite of yours?
Hooman : The first time I thought ,sometime I wold compose a song ,was exactly the first time I visited a Guitar ,with my eyes.Buying,atleast,a cheap guitar was a favore I begged my father to do for me. think I was 13 or 14.and I want to name another basic element influnced on my music background .It was all the rock music tapes and old song ,belong to my father's youth.
Arash : I was interesting to me ,from the early years in my child hood,but in primary school I was ,still unsatisfied .In middle guidance school years I was in our school music group .There in Our school music group ,I have always used to think about writing an original Lyric ,fore an original music track .Then I made my parents to buy me a "Tombak" ,and it was a good instrument for that years . I could take rhythms and beats ,without ,having an expensive instrument. Because the Price was always a matter of being stopped for me in choosing music instruments.In my highschool years I was playing Harmonica and it was a good friend to me . But in Tehran and in the university ,it was a shock , it was a sudden change .maybe all things changed when I met hooman for the first time.
Hooman : Yes ,that day Arash was talking about the categories …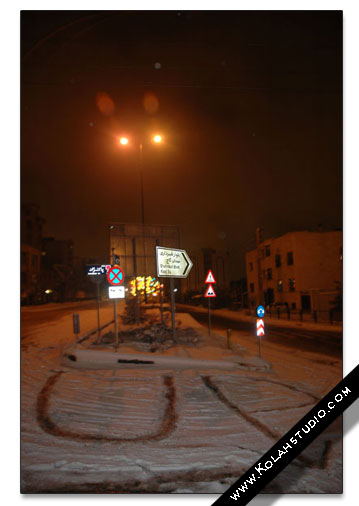 Kolahstudio : Which one is the basic?Music or Your relation?
Arash : I think ,our Relation –Our Friendship is the most fundamental in our activities in Up band Music.None of us know what is going on through that young relationship.I think our friendship ,matters much more.
Kolahstudio: How happened to then , I mean the birth or your songs?
Hooman : In my highschool years I could play just some of popular songs ,and I always wanted to just to play and have somebody to sing a side. I must remind you that in my highschool years ,music was illegal and Forbbiden in Iran. Then in the university ,I have met arash and easily planned to play an old song –Pooneh- in our own way. The chords have been changed and the vocal styles was different from the original ,but it was all ok.
Kolahstudio : Can you explain more?
Arash : when I heard him play , I thought we have to creat an original song ,with an original poem .
Hooman : We used to go to the mountain every other week and our first tracks are completely composed and played in mountains.
Arash : after a year and a half the conditionfor me- as a independent university student ,living alone in a city far from my town – and hooman-as my friend- got harder and harder and at last it shaped the main theme of Our songs.In fact ,The themes and scenario of our works are shaped and mirrored our real life experience.They are some Passed events ,which are located Next to eachother in a row ,called getting old.Our real life Experiences are important to us ,and many peoples we know .some things like Social disasters and so on.
Kolahstudio : About Home live performances,you've done , Is it a good Experience?
Arash: At the beginning there were many friends and people who didn't accept our music ,maybe because of our way of expression and the way we cry . Some people ,sometimes threw negative energies and this is bothering me ,even with a short glance.
Hooman: but I'm not paying attention to them,I only paly my song and no one is important for me when I play.I mean nothing can bother me or make me feel bad ,when I'mplaying.it's because of a shocking experience ,I've had some years ago.when some one asked me to play every thing I can ,for the firt time in front of 100 people.
Kolahstudio: About your lyrics ,What do you seek through your language ? is your aim , exactly behind the words ?
Arash : For me , All the Lyrical meaning and linguistic connection among the poem and song,is the feeling and the experience behind the song.The desperate and tired soul is the main idea for me and it's hidden by words and notes.I think all our songs and lyrics are just some representations of our real life.many people listen to our song and think they got the meaning ,but for me ,the meaning is not about the narration in the Lyrics ,but in the tiredness and bad conditions around us.It's the experience of living a life ,in an especial condition.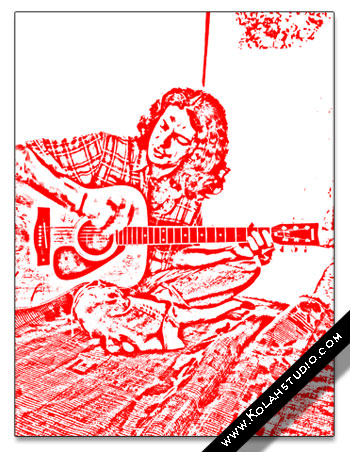 Kolahstudio: You mean this is your life and the memories of your life?
Arash : yes ,maybe.
Kolahstudio :What do you think about music?
Arash :I have a definition for art ,and I think it is right to all the generes and styles of art.I think Art is a profession .A profession which aims to be Expressive. Art should have the power to express a feeling and I think a good Art work would be the one expresses well.Right because of it ,I like the …..
Hooman : I think these words are formed in such a way and are very close to that feeling of peace and beauty.I think when I work I should know this.
Kolahstudio :What about Going live?
Hooman: ,we had an sponser and Sent our works to get legal permission to record and publish our works ,but the Misnistry of Culture ,Replied with some required changes to poems . They think we can change our poems or songs ,only because of their permission .but Our song are not some mass products ,they are based on our feelings and memories of Past ,which is exactly unchangeable ,so we are just thinking to underground Publishing of Our Works.
Arash : wen we choosed our way ,we choosed all the style .i think Rock means to Think ,beside music.If we decide every thing can change but we don't change any thing to take the Legal permission .
Kolahstudio: You worked with a lot of young musicians ,what do you think you've got?
Hooman : Yes, we worked with many friends and it was all some good experiences ,listening to what others play on our songs is a good way to find out all the possibilities of our music.
Kolahstudio : Your wish for life?
Arash : all things I want ,Now is to be powerful in the way we've started .I wish this young movement to be successful.
Hooman : A peaceful world ,with freedom and freespeech.
Thanks for Your respect and Attempts in music ,life and your works .Hope to be in touch and wish to be a better friends for Other persons around you .
Hear 3 minutes Audio of The Interview (Persian)