Henri de Toulouse-Lautrec | French Painter (1864-1901)
"[He] painted no landscapes, no religious pictures, no abstract conceptions. All his subjects, except for a few representations of animals, were real people whose lives were an integral part of his own life. "Gerstle Mack, from Toulouse-Lautrec (1938).
Henri de Toulouse-Lautrec was born on Nov. 24, 1864 , in Albi , France . He was an aristocrat, the son and heir of Comte Alphonse-Charles de Toulouse and last in line of a family that dated back a thousand years. Henri's father was rich, handsome, and eccentric.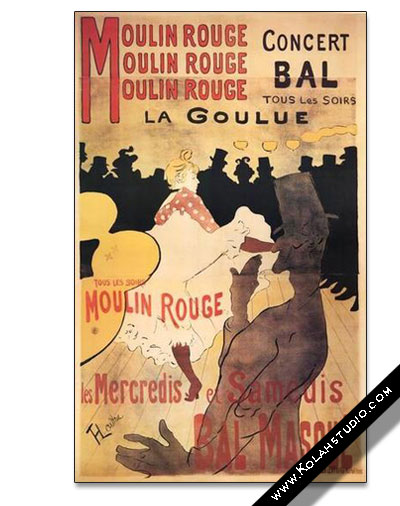 His mother was overly devoted to her only living child. Henri was weak and often sick. By the time he was 10 he had begun to draw and paint. Lautrec begins his schooling at the Lycee Fontanes in Paris and his interest in art can already be seen as he frequented the studio of Rene Princeteau .At 12 young Toulouse-Lautrec broke his left leg and at 14 his right leg. The bones failed to heal properly, and his legs stopped growing. He reached young adulthood with a body trunk of normal size but with abnormally short legs. He was only 4 1/2 feet (1.5 meters) tall. In 1882 he became a pupil of Bonnat and a year later of Cormon.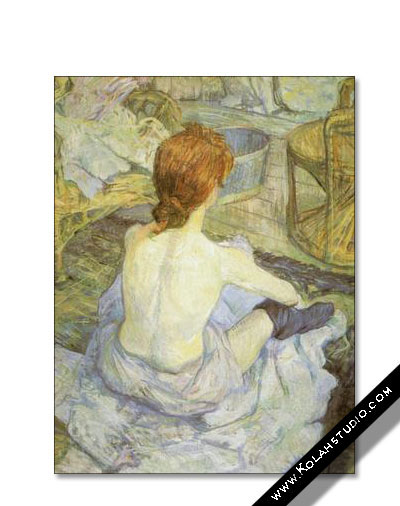 Despite his short life, Lautrec managed to produce some 737 canvases, 275 watercolours, 368 prints and posters and 5,084 drawings. His works provide an amazing document for the years 1880 to 1900, a period described as 'la belle epoque'. In 1885 with an allowance he sets himself up in a studio in Montmartre and begins to draw for illustrated journals. Meeting van Gogh in 1886, Lautrec came into contact with Impressionism and Post-Impressionism. From 1888 he begins to paint scenes and characters from society around him. Thus pictures of theatres, cafes, music-halls (most often the Moulin Rouge) and brothels can be seen again and again in Lautrec's woks.This extraordinary characters in his paintings , from clowns to aristocrats, from sportsmen to prostitutes cover a broad social spectrum.
In 1889 he exhibits for the first time at the Salon des Independents and two years later produces his first poster for the Moulin Rouge. By 1894 Lautrec takes up residence in the brothel in the Rue des Moulins and by now he was fully immersed in the drinking and debauchery of this seamier side of Parisian life. Works such as 'Les Deux Amies' (c.1894) and 'La Goulue Dancing' (1895) for example are just two of the many paintings he produced that documented these 'fin-de-siecle' scenes. By 1899, due to excessive living, Lautrec is taken to an asylum at Neuilly with an attack of delirium tremens. Upon release he can't help but return to his hard-drinking ways and two years later he dies from a paralytic attack.
Deprived of the kind of life that a normal body would have permitted, Toulouse-Lautrec lived wholly for his art. He stayed in the Montmartre section of Paris , the center of the cabaret entertainment and bohemian life that he loved to paint. Circuses, dance halls and nightclubs, racetracks–all these spectacles were set down on canvas or made into lithographs.
His influences probably came from Goya and Degas in his painting. A friendship with Gauguin certainly led Lautrec in a particular direction in his lithographs, Japanese colour prints.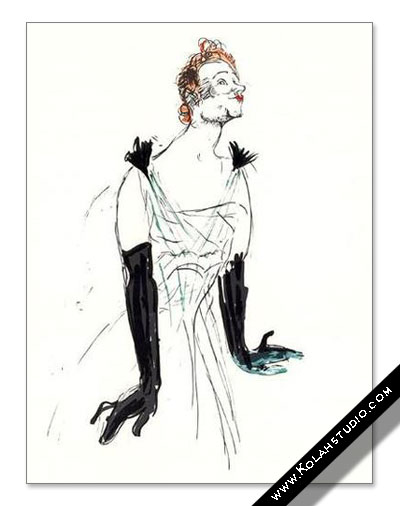 Toulouse-Lautrec was very much a part of all this activity. He would sit at a crowded nightclub table, laughing and drinking, and at the same time he would make swift sketches. The next morning in his studio he would expand the sketches into bright-colored paintings.
In order to become a part of the Montmartre life–as well as to protect himself against the crowd's ridicule of his appearance–Toulouse-Lautrec began to drink heavily. In the 1890s the drinking started to affect his health. He was confined to a sanatorium and to his mother's care at home, but he could not stay away from alcohol. Toulouse-Lautrec died on Sept. 9, 1901 , at the family château of Malromé. Since then his paintings and posters–particularly the 'Moulin Rouge' group–have been in great demand and bring high prices at auctions and art sales.
Resources: Web
www.Artcyclopedia.com | www.Webmuseum.com |
Books: –
Lautrec / Henri De Toulouse | Phaidon Publisher 1998 |