Francis Bacon was born at 63 Lower Baggot Street , Dublin on 28 October 1909 , of English parentage. His father, a former captain in the British army, moved to Ireland to breed and train race horses. His mother, Winifred Bacon was from the wealthy Firth family from Sheffield . The family was based in County Kildare and rented Cannycourt House, a large residence near the town of Kilcullen . Bacon had two brothers and two sisters. For a time, Francis was sent to live with his maternal grandmother and her husband at Farmleigh, near Abbeyleix. The Bacon family subsequently lived at Straffan Lodge, near Naas in Country Kildare. They moved back to London for the duration of the First World War. When the family returned to Ireland they witnessed at first hand the political turbulence generated by the War of Independence and the Irish Civil War.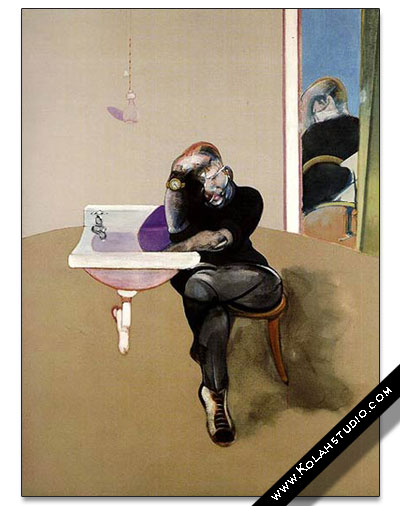 Following a disagreement with his father, Francis Bacon left home at the age of 16. After a stay in London , he travelled to the louche Berlin of the late 1920s where he savored the excitement of the city during the decline of the Weimar Republic . However, it was in Paris that Bacon found a new sense of purpose. An exhibition of drawings by Picasso at the Galerie Paul Rosenberg inspired Bacon to become an artist. These were by no means the only influences on Bacon at this time. He must have encountered Surrealism in art, poetry and film and may have seen Soutine and de Chirico's solo exhibitions held in the summer of 1927. Sergei Eisentein's famous film, Battleship Potemkin, (1925) also had a major impact on Bacon. The blood-splattered face of the screaming nurse in this film was an enduring image for the artist and one that featured in many of his paintings, most significantly Study for the Head of a Screaming Pope, 1952.
On his return to London Bacon achieved some renown as a furniture designer. The Studio magazine devoted a double-page article to his work, entitled "The 1930 Look in British Decoration". He soon rejected this path and turned to painting. He first gained recognition as a painter, most notably with Crucifixion, 1933 but it wasn't until the mid-1940s that his artistic career took off. The critical success of his Three Studies for Figures at the Base of a Crucifixion, 1944, established Bacon as a new force in post-war art. Apart from periods spent in Monte Carlo , Tangier and Paris , he spent the rest of his life in London . His high spirits, ready wit and exceptional generosity attracted people from a wide variety of backgrounds including artists, writers and Soho eccentrics. Many of these individuals feature repeatedly in his portraits. During his lifetime, Bacon had major exhibitions in cities such as London , Paris , New York , Washington , Dublin , Los Angeles and Moscow . The artist died in Madrid on 28 April 1992 .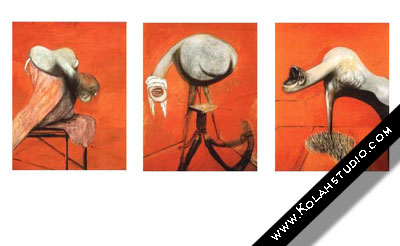 He Was really A self-taught artist, began painting in 1929, but in 1940 he destroyed almost everything he had produced up till then. His real career began in 1944. While he clearly appreciated certain of Picasso's distortions, lie was also influenced by Muybridge Photographs , memories of cinema, X-ray pictures and human figure, and "portraits", nude or clothed bodies which in general have been not merely distorted but hattered; the faces seem to have been disfigured by kicks or blows, the\ express bewilderment, terror, Sullen hatred, rage, or stealthy vindictiveness. The limply curving bodies remind one of partially deflated rubber dolls. Usually set alone in rooms of whose emptiness one is painfully aware, these figures are sometimes seated in a cage formed by a few inctal tubes, or else they arc lying on the ground or on a flat bed like an operating-tablc, in the ridiculous yet tragic attitude of creatures which have fallen on their backs and cannot get tip. When the model is soundless cries like those one makes in a nightmare. And yet the ugliness of his figures and the painful aspect of some of his subjects do not preclude fascinating painterly effects. If his colouring, with its great flat patches of pink and lilac, violet, orange and a(id green, has a strange and sometimes agressive (haracter, it is very far from being commonplace, and despite the broad handling there arc many delicate nuances in his painting, particularly in the battered faces.
Also Visit
http://www.kolahstudio.com/francisbaconoeng.htm
Sources
Web Resources:
www.artquotes.net
Published and Books:
Dictionary of Expressionism | Written by Joseph Emile Muller | English Translation By
Jean Stwart | Eyre Methuen LTD 1972