George Baselitz (1938 –
German Expressionist Artist
Born 23 January 1938 as Hans-Georg Kern in Deutschbaselitz/Saxony, in what was later East Germany. His father is an elementary schoolteacher and the family lives in the local schoolhouse; in its library, Baselitz comes across albums of nineteenth-century pencil drawings – his first encounter with art. He acts as assistant to nature photographer Helmut Drechsler on occasional "ornithological shoots."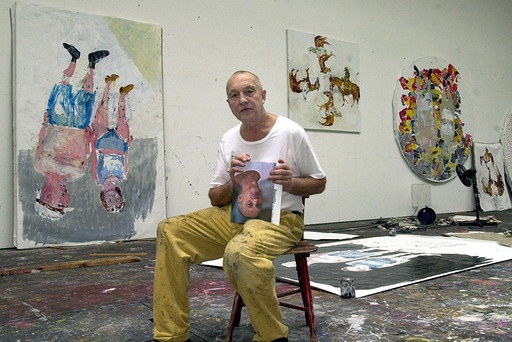 1950-1955 The family moves to the county town of Kamenz. Baselitz attends the local 'Gymnasium,' in the assembly hall of which hangs a reproduction of the painting "Wermsdorfer Wald" (1859) by Louis-Ferdinand von Rayski. He reads the writings of Jakob Böhme. At the age of 14-15, he paints portraits, religious subjects, still lifes and landscapes, some in a futuristic style.
Baselitz's style is Expressionist. His speciality is to paint his subjects the other way around to free the subject from its content. Baslitz is one of the world's best-selling living artists. He is a professor at the renowned Hochschule der Künste in Berlin.
In 1955, he applies to study at the Kunstakademie in Dresden but is rejected. . In 1956, he began to study art at the Hochschule für Bildende und Angewandte Künste in East Berlin , from which he was expelled in 1957 for "socio-political immaturity." Nonetheless, the same year he continued to pursue his art studies at the Staatliche Hochschule für Bildende Künste in West Berlin . Leaving East Germany , where Socialist Realism served to further the state's ideology, he then discovered that in the West the "uniform language of an abstract expressionism had degenerated to become mere design." Baselitz's status as an outsider had not changed.
Autobiographical elements were present in Baselitz's painting from the outset, especially in his representation of people and landscapes. However, it was not until Baselitz's 1996 series "Family Pictures" that they became the artist's dominant theme.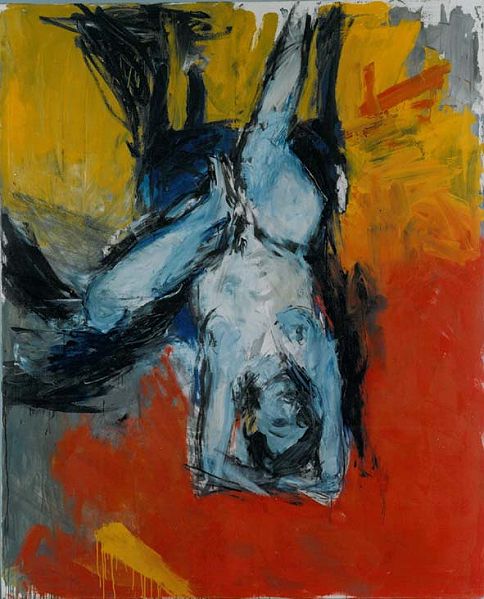 The watercolors and paintings from this series feature a number of portraits based on old family photographs. Baselitz states that this "sentimentality" was prompted by his reading of the Stasi reports on his youth in the GDR.
The artist's memories of this period are also linked to the culture of the Sorbs, in whose native territory Deutschbaselitz is located. His work from mid-1997 borrowed motifs from Slavic folk art, clearly a link to his early encounters as well as to surroundings he then felt to be "exotic." Portrayals of dancers striking unfamiliar posesare combined with other elements drawn from Baselitz's predilection for Turkish folk culture — evoking a chain of autobiographical associations for the artist — which, in "Nostalgia in Istanbul ", brings his work full circle.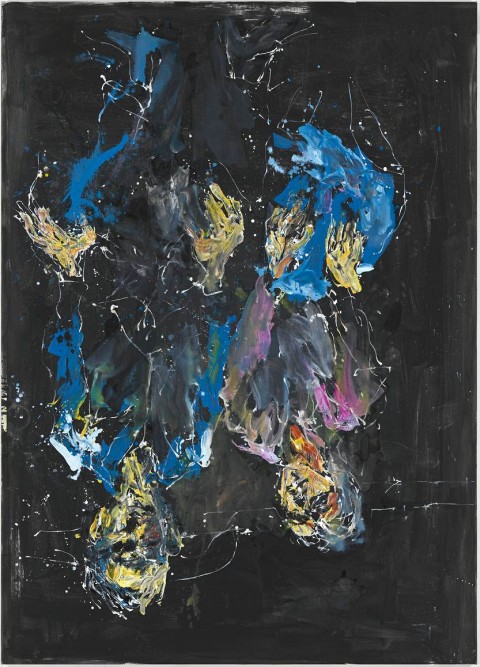 The most recent pictures, painted in 1998, take their cue from German Romanticism. In this work Baselitz uses motifs from four famous woodcuts designed by Romantic painter Caspar David Friedrich and cut by his brother Christian Friedrich: "Melancholy", "Woman On The Abyss", "Sleeping Boy", and "Self-Portrait". Baselitz has significantly enlarged the centrally placed figures found in these small graphic works, isolating them from the surrounding landscape, and transferring them to a light, transparent style of painting devoid of perspective.
The evolution of Baselitz's art beyond traditional forms of composition and perspective, which began in the 1960s with the isolation, fragmentation, and inversion of the picture's object, reaches a new plane in this exhibition. Biographically inspired, the works combine new painterly devices with the subjective interpretation and transformation of historical motifs and thereby create a new visual experience, a new validity.In 1993 Georg Baselitz lives and works in Derneburg and Imperia and in 1994 He designed a s tamp for the French postal service.
Sources
Web Resources:
Artchieve.com | Wikipedia.org
Published and Books:
1- Treasures of 19th and 20th Century Painting | the Art institute of Chicago |
Abbeville press 1993 New york