RUSL-ONE is a German Designer and Style Writer who have been writing his Name on Walls since 90's. Rusl is One of those Writers who is applying a lot of Coloring details and Effects into his amazing styles.He uses material representaion in his recent styles  inwhich you can find modernized visual effects like fluid and gas effects as clean as a German and as fresh as a european Letter style design. here we asked him somequestions and he kindly answered them for us and our readers.
KolahStudio: When did you start To do graffiti and what was your background?
RUSL1:  I started nearly ´92 but after 1995 i began constantly to paint! Even as a young boy I had a pen in my hand until i realized graffiti as a subculture.
KolahStudio: What is your viewpoint  on The argument of Being a writer or Graffiti Artist or Artist? any difference? any boarders any rules?
RUSL1 :  For me there is no diffrence between this three words. I am all of this.
I am a Graffiti-Writer, Graphic-Designer and many more 😉 and thanks to graffiti i could see many things in my life. I travelled a lot and had a great time during the 15 Years.
I am proud of it and i wont miss that period. Graffiti helped me not to buy into all the violence and drugs running during those times when i was younger.
My art was my hedonism. Borders and Rules are meant to be broken.
KolahStudio: Do you feel it is a need to know about art history and Basics of Art to do graffiti or street art?
RUSL1 :  I think it´s not a need if you only doing graff but it is a advantage or a plus for you when you got some background knowledge about art and others.
If you start to exibit in galleries or something then you should better know about thoose time for my opinion.
KolahStudio: In the graffiti world and in the media we have titles like "Toy" ,"Biting" ,King and legend , can you talk /Describe these for our readers?
RUSL1 :  For me…
a Toy is someone who paints a while but dont knows to way of being cool in the graff-game.
a Biter is someone who dont understand what he see and `realize`, so he start to copy and start to spread that it´s he did that at first etc..
a king is someone who understand to handle with all kind of disciplines and elements in any kind of topic.
a legend is someone who lives or do many many years alot for this graff thing.
KolahStudio: What do you think about IRAN?what image do you have from Far away?
RUSL1 :  I never thought about iran and its art scene. But recently i met A1one and i was very suprized with which kind of spiritalizm he worked on his canvases. After I also read once a streetart report in the internet i was happy to see that their are some headz outta there who are still rocking this shit in any kind of areas.
KolahStudio: If you want to Name 3 Artists who you admire their Works in Visual arts ,who are those?
RUSL1 :  Sigi von Koeding – DARE: because he was a multifunctinal artist, Valentin Fischer; like the way he work with lights, Andrew Byrom: just wooow,
KolahStudio: can you plese shortly  describe the scene in Your country?(ofcourse  it is too complexe)
RUSL1: Generally we have a very active illegal and legal graffiti scene here in Stuttgart.
All shades of graffiti are represented. Within Germany Stuttgart is also well known for its good styles and quality!
KolahStudio: Do you sell your pieces or you make money from another Job?
RUSL1 :  I do both. as i said i am a Graphic Designer and Illustrator besides working only just as a Graffiti-Artist.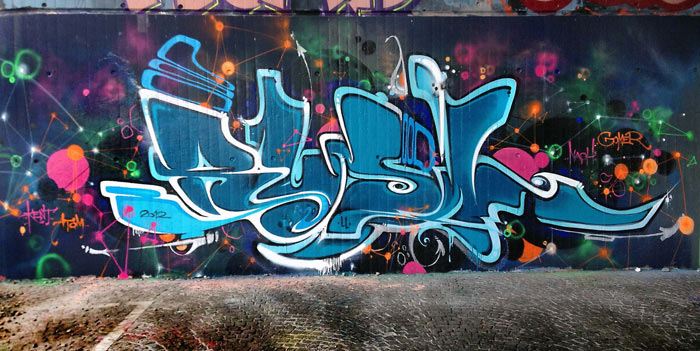 KolahStudio: what is a crew? How it happens when some writers gather in a crew? is it based on friendship ? on Talent or …. what?
RUSL1 : For me a crew is something like a 2nd family beside your first and real family.A crew comes toghter when some indivduals are got the same interests. Within a crew, the exchange of ideas and the mutual inspiration is very intensive, as it should be, in order to keep the culture alive. This doesn't mean that you always agree, but you have to make common decisions which many members are involved in. This is the difference compared to working only on your own or in small groups. At the beginning, though, I wasn't really used to it as the maximum number of members I had worked with before was only four..
Even if you do not see each other every day, there is still a very special commitment to the single crew members and the crew as a whole. On the one hand, you can share certain moments with your crew, learn from it and contribute your own ideas and experiences. On the other hand, I think I also need my own creative space, make certain discoveries on my own and experimentalize with new stuff and fresh things. I need this time to keep my own spirit alive, improve my individuality and develop my style as well as details by permanently asking myself how to do them and why!
A new environment gives you the chance to learn more about you, about your work and other artists. Therefore, I love both: The crew moments and my very personal moments with the rest of the universe! I believe that everything you learn, you primarily have to learn on your own. Even things you learn in a group context, e.g. to step back and make compromises within your crew, it is something you have to learn on your own, no one can help you with that, it is just about you.
Artist's Website [+]