Press

برای خرید ریالی و ارسال به ایران با ما تماس بگیرید
The Payment is only through PAYPAL and will be done through paypal website secure payment.
There will be a Shipping fee for each Item.


Tanha #1 – The Hotbeds of Eremia
Contemporary comic book from Iran


ENGLISH
Tanha, Being an Artist , tends to paint and read books, while finding him/herself in contradiction with Social values and norms….
Tanha Serie of Comics are based on true life experiences and tend to talk about issues which can not be well elaborated through everyday dialogs.
–Limited Edition of 50
–Size A5 / 28  4 /color pages
– Numbered
16 € (Shipping included)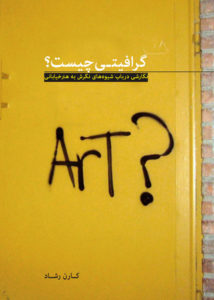 عنوان کتاب: گرافیتی چیست؟
نگارشی در باب شیوه‌های نگرش به هنر‌خیابانی
نویسنده: کارن رشـاد
تعداد صفحات:۲۱۶ صفحه  
قطع: رقعی / جلد شمیز
وضعیت چاپ: تمام رنگی / گلاسه
نوبت،‭ ‬تاریخ‭ ‬و‭ ‬محل‭ ‬نشر‭:‬ چاپ‌‭ ‬اول‭ ‬۱۳۹۷،‭ ‬آلمان‭ ‬
شمارگان:‭ ‬۵۰۰‭ ‬نسخه
شابک: ۹۷۸‭-‬۳‭-‬۰۰‭-‬۰۵۹۳۶۶‭-‬۶
قیمت داخل ایران - با احتساب هزینه پستی ۲۵۰ هزار تومان
24 € (Shipping included)

Dandoon

Illustrations
– Page counts: 144 Pages
– 115 Grams Natural Paper
– Approx size: 15.5×20.5 x 1 cms
– Edition of 50 Uniquely touched books
– Signed and Numbered by Artist / Embossed by KolahStudio
– 2017 ,Germany , Ships from Germany
SOLD OUT